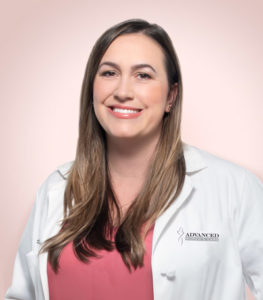 Dr. Elizabeth Jackson, OBGYN, recently joined the Advanced Women's Care team, bringing with her exceptional knowledge and expertise. Meet Dr. Elizabeth Jackson and learn about her care philosophy, hobbies, and more in the Q&A below.
Meet Dr. Elizabeth Jackson 
Q: Why did you choose to go into medicine? 
A: I've always liked helping people – talking to them, getting to know them. I worked in the service industry for years and knew I wanted to continue serving others in some sort of capacity. Then, I interned in a Post-Anesthesia Care Unit (PACU), where I was able to see what it's like being a physician, being active, and helping people all day. That experience really solidified my interest in medicine and I knew then that's what I wanted to do.
Q: Why did you choose obstetrics and gynecology?
A: I originally wanted to be an Emergency Department doctor when I first started medical school. I liked the fast-paced nature of the job. Then, when I learned more about obstetrics and gynecology and how much variety it offered, it seemed like the perfect match for me. I loved that it mixed a fast-paced component with a clinical component. The clinic would give me an opportunity to connect with patients on a deeper level and help other women during some of their happiest and hardest moments.
Q: Who or what was your greatest influence in medical school or residency?
A: My peers. While in both medical school and residency, I made several long-lasting and meaningful friendships and relationships. In fact, I still talk to many of them regularly. I will call them up with a question or for advice, and they do the same with me.
Q: What do you love most about your job?
A: This may sound crazy, but I love delivering babies! I also really enjoy developing relationships with patients and helping them through some of life's most incredible journies.
Q: What do you enjoy doing in your spare time? 
A: I love traveling, both inside and outside of the US. My husband and I recently bought a sprinter van and we've really enjoyed taking it around to various national parks, etc. I also love sports – watching and playing them. I like watching the Titans and Preds, and I especially enjoy playing volleyball. Most of all, I love spending time with my husband, two dogs, two cats, and one perfect 10-month-old baby boy.
Q: What is something people would be surprised to know about you? 
A: I speak fluent Spanish! I also love sports.
Q: What do you like most about being part of Advanced Women's Care? 
A: The people I work with and the relationships we have together. We are blessed to have a very positive and supportive and work environment.
Q: What advice do you have for women looking for an OBGYN?
A: Find someone who listens to you and makes you feel comfortable.
Q: What is your best advice for new moms? 
A: I am a new mom myself, so I am still learning. I recently heard a great quote about new parenthood: The days are long, but the years are short. It's so true. So, I would say take as much time as possible to spend time with your baby while they are still a baby. Enjoy those times – even when they seem difficult – because they are fleeting. Also, don't stress about being perfect. Just do what works best for you. Everything's going to be ok.
Q: What is your best health-related advice for women? 
A: Make your own health a top priority! You cannot take care of those around you if you don't first take care of yourself.
Q: What do you want patients to know about you?
A: I want my patients to know that I am here for them and that I will always have their best interests at heart. I want them to have the absolute best experience possible – whether it's in the office or with their delivery. Also, I want them to know I have advanced specialized training in several areas, including robotic surgery, infertility, fibroids, etc. So, I can help with numerous situations and conditions.
Q: What do you want patients to know about AWC? 
A: We are an all-female practice. We all share similar philosophies and are very good at what we do. Most of all, we truly care for our patients and want what's best for them.
To schedule an appointment with Dr. Jackson, call 615.467.4644.

Advanced Women's Care is a female-led OBGYN practice in Murfreesboro, Tennessee. We provide comprehensive, compassionate, high-quality women's healthcare to all patients. Our team includes board-certified physicians with 60+ years of cumulative experience providing obstetrics and gynecology services. To learn more, please visit advancedwomenscare.com.